Skull and Boneshaker 2019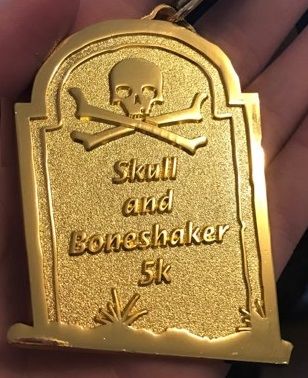 Skull and Boneshaker 2019
Skull & Boneshaker - A tough 5k in the South Downs National Park
Saturday September 14th, 2019 
Start:               
Queen Elizabeth Country Park, PO8 0QE (Benhams Bushes picnic area)
Cutoffs:          As long as you like!


​​


Registration: 

£14 (+£2 if not UKA)


Description
A 5km hilly trail race from Queen Elizabeth Country Park, down towards Buriton and then back up a tough climb in the South Downs National Park along clearly marked paths and trails.


The course is designed to be easy to follow, but hard to run! 
Your reward: The Skull and Boneshaker medal and an event technical T-shirt too.
Mandatory Kit: 
None
At all times, you are required to carry:

Come prepared for all weather conditions.  For example, if there is a possibility of rain, then bring waterproof gear. It's quite a long walk from the car parks to the registration/start area, and also you could be out there on course for a while

Please use common sense.  Getting to the finish safely is your first objective, do everything you can to achieve this. Be careful of slips and trips on the downhill sections.
Race held under UK Athletics rules
Minimum age 12, no dogs allowed.
TRA Permit: TBA