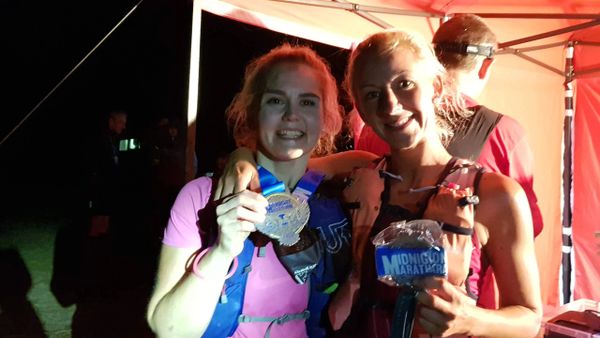 Midnight Marathon
Midnight Marathon

A night-time run in the South Downs National Park

Where:             Queen Elizabeth Country Park, A3, South of Petersfield, Hampshire

Date:                 Saturday 13th August 2022

Start time:       9PM  (open start from 8PM for non-competitive runners)

Cutoff time:    Midnight at halfway (23:45 for early starters), Finish by 4AM

Entries:            £40 (additional £2 if not UKA Affiliated)




The Run:

Along the waymarked South Downs Way
Chip-timed start and finish
Bespoke one-off event finisher's medal 
Free parking available

Aid stations every 7km
Results on Runbritain

Enjoy the excitement of night running in the South Downs in the Summer.   

Starting with a signed route for a couple of miles within the country park, then on the public way-marked South Downs Way, with multiple water/aid stations along the way.

This is a great way to run at night with others on a course that is simple to follow.  
Under a full moon with a clear sky you can see a night view for miles around - the stars above, the headtorches along the hilltops and the lights of the villages below.
​ Even though this is a summer event, it can still get cold at night, so please wear or carry appropriate clothing.  In addition, all participants will be required to take a torch and a backup light source and must carry a mobile phone. 
We expect the fastest finishers to be back just after Midnight and everyone to be finished by 4AM.

For those that prefer to take it slower (PB over 6 hours on a road marathon) there will be an early start at 8PM.
We expect the full 200 entrants, so plenty of people around without it spoiling the night running experience. Medical cover is provided by a first-aider at base plus a paramedic positioned along the course in a 4x4 ambulance.
 


The Finish:

At the finish you will receive your bespoke Midnight Marathon medal, designed for 2022.





Prizes for 1st, 2nd, 3rd Male and Female (9PM starters only)




Permit:         TRA permit TBA

Race run under UK Athletics rules. No dogs, minimum age 18 for both distances.