Winter Cross start list (24/12/21)
| | | | | | | |
| --- | --- | --- | --- | --- | --- | --- |
| FirstName | LastName | Number | AgeGrp | Gender | Distance | Club/Team |
| Eszter  | Adam | 10 | SEN | Female | 70km | |
| Abdulla  | Al Thani | 100 | SEN | Male | 50km | |
| Thomas  | Alcock | 101 | SEN | Male | 50km | |
| David  | Ames | 11 | 50 | Male | 70km | 100 Marathon Club |
| Karen  | Ardley | 102 | 50 | Female | 50km | Stonehenge Striders |
| Marie  | Aronsson-Storrier | 103 | SEN | Female | 50km | Run Namaste Eat |
| Jed  | Atack | 12 | SEN | Male | 70km | |
| Simon  | Bacon | 105 | 50 | Male | 50km | Stubbington Green Runners |
| Stuart  | Bamberger | 106 | 40 | Male | 50km | Stubbington Green Runners |
| John  | Banks | 13 | 40 | Male | 70km | Winchester Fit Club |
| Helen  | Baxter | 107 | 50 | Female | 50km | Chard RRC |
| Philomel  | Bennett | 108 | 50 | Female | 50km | Haslemere Border AC |
| Greig  | Benson | 109 | 40 | Male | 50km | Stubbington Green Runners |
| Lauryn  | Bentham | 104 | 40 | Female | 50km | 100 Marathon Club |
| Paul  | Bernard | 110 | 50 | Male | 50km | |
| Stuart  | Bincham | 111 | 40 | Male | 50km | Portsmouth Joggers |
| Viki  | Bingham | 14 | SEN | Female | 70km | Zoom Triathlon Club |
| Robert  | Bircher | 15 | 50 | Male | 70km | Clc Striders |
| Emma  | Bird | 112 | 40 | Female | 50km | Portsmouth Joggers |
| Danielle  | Blackie | 113 | SEN | Female | 50km | 100 Marathon Club |
| Lauren  | Blatherwick | 16 | 40 | Female | 70km | Haslemere Border AC |
| Alastair  | Bloore | 17 | 50 | Male | 70km | Epsom & Ewell Harriers |
| Fiona  | Bone | 114 | 50 | Female | 50km | Hatch Warren Runners |
| Timothy  | Boone | 115 | 60 | Male | 50km | Arunners RC |
| Jonathan  | Boucard | 116 | 40 | Male | 50km | Harwell Harriers |
| Sebastian  | Briggs | 117 | 50 | Male | 50km | WADAC |
| Peter  | Brislen | 18 | 50 | Male | 70km | Portsmouth Joggers |
| Kevin  | Bryant | 19 | 60 | Male | 70km | Frrc (Urn:4001596) |
| Karen  | Burles | 118 | 40 | Female | 50km | Reading AC |
| Stacey  | Canning | 119 | SEN | Female | 50km | |
| Briony  | Cavell | 120 | 40 | Female | 50km | |
| Emma  | Challis | 20 | 40 | Female | 70km | Cats Protection |
| Paul  | Coates | 242 | 50 | Male | 50km | 100 Marathon Club |
| Janet  | Cobby | 121 | 50 | Female | 50km | New Eltham Joggers |
| Julian  | Colborne-Baber | 122 | 40 | Male | 50km | |
| Anjella  | Coote | 123 | 40 | Female | 50km | Portsmouth Joggers |
| Tom  | Courtenay | 124 | SEN | Male | 50km | |
| Cordelia  | Cripps | 125 | 40 | Female | 50km | Fareham Running Club |
| Kimberley  | Cross | 126 | SEN | Female | 50km | |
| Amelia  | Culshaw | 78 | 40 | Female | 70km | Brighton Phoenix |
| Tim  | Culver | 127 | SEN | Male | 50km | |
| John  | Curtis | 241 | 50 | Male | 50km | Yeovil Town RRC |
| Graham  | Dance | 128 | SEN | Male | 50km | |
| Cliff  | Dargonne | 129 | 50 | Male | 50km | 100Mc |
| Bryan  | Darney | 130 | 60 | Male | 50km | Goring RRC |
| Mick  | Davidson | 131 | 50 | Male | 50km | 100 Marathon Club |
| Ollie  | Dawson | 132 | SEN | Male | 50km | 100 Marathon Club |
| Sally | Deamer | 133 | 50 | Female | 50km | Littledown Harriers |
| Louise  | Diez | 134 | 50 | Female | 50km | |
| Lisa  | Donn | 135 | 40 | Female | 50km | Stubbington Green Runners |
| Rachel  | Donnachie | 136 | 40 | Female | 50km | Stubbington Green Runners |
| Matthew  | Duckett | 244 | SEN | Male | 50km | Queens Park Harriers |
| Bradley  | Dunningham | 137 | SEN | Male | 50km | |
| Vincent  | Dunningham | 138 | 50 | Male | 50km | |
| Gemma  | Early | 139 | SEN | Female | 50km | |
| Stephen  | Elliott-Nicholls | 140 | SEN | Male | 50km | Farnham Runners |
| Daryll  | English | 141 | SEN | Male | 50km | Netley Abbey Runners |
| Mikhail  | Erofeev | 142 | SEN | Male | 50km | Clapham Chasers |
| Simon  | Evans | 143 | 40 | Male | 50km | Portsmouth Joggers |
| Anthony  | Farmer | 240 | 40 | Male | 50km | |
| Kevin  | Feeney | 21 | SEN | Male | 70km | |
| Paul  | Fenton | 144 | 40 | Male | 50km | |
| Jack  | Ferrett | 145 | SEN | Male | 50km | |
| Gareth  | Fish | 146 | 40 | Male | 50km | |
| Jade  | Fish | 147 | SEN | Female | 50km | |
| Debbie  | Forrest | 148 | 50 | Female | 50km | |
| Jack  | Fourie | 22 | SEN | Male | 70km | |
| Anita  | Gilbert | 149 | SEN | Female | 50km | Tadley Runners |
| Stephen  | Glennie | 23 | SEN | Male | 70km | |
| Shelley  | Gooch-Smith | 151 | 40 | Female | 50km | Chineham Park Running Club |
| Ian  | Goodenough | 152 | 40 | Male | 50km | Adventure Running |
| David  | Grant | 24 | 50 | Male | 70km | Hook Runners |
| George  | Gray | 25 | 40 | Male | 70km | Farnham Tri Club |
| Malcolm  | Green | 153 | 60 | Male | 50km | Winchester & District AC |
| Steve  | Green | 154 | 50 | Male | 50km | Bad Boy Running |
| Alex  | Gribben | 26 | SEN | Male | 70km | Battle Ready |
| Peter  | Grigoleit | 155 | 50 | Male | 50km | Tadley Runners |
| Tracey  | Grigoleit | 156 | 50 | Female | 50km | Tadley Runners |
| Michael  | Groves | 27 | 40 | Male | 70km | |
| Bradley  | Gurney | 157 | 40 | Male | 50km | Mercia Fell Runners |
| Christopher  | Hall | 28 | 40 | Male | 70km | Crystal Palace Triathlete |
| Ian  | Hammett | 29 | 40 | Male | 70km | Bedford Harriers |
| Belinda  | Harding | 158 | 60 | Female | 50km | Victory |
| Christoph  | Harper | 159 | SEN | Male | 50km | |
| Simon  | Harris | 30 | SEN | Male | 70km | White Horse Harriers |
| Emma  | Harris | 238 | 40 | Female | 50km | Wadac |
| David  | Harvey | 31 | SEN | Male | 70km | Portsmouth Joggers |
| Michael  | Haskell | 160 | SEN | Male | 50km | |
| David  | Hayles | 32 | 40 | Male | 70km | Alton Runners |
| Ian  | Healy | 161 | SEN | Male | 50km | Clapham Chasers |
| Andrew  | Heaney | 33 | 50 | Male | 70km | |
| Ewan  | Heaney | 77 | SEN | Male | 70km | |
| Jenny  | Hicks | 162 | SEN | Female | 50km | |
| Paul  | Higgins-Drysdale | 34 | 40 | Male | 70km | |
| Lesley  | Hinsley | 35 | 50 | Female | 70km | Somewhere Else |
| Lucy  | Hogg | 163 | 40 | Female | 50km | Farnham Town |
| David  | Hopkinson | 164 | 60 | Male | 50km | |
| Hannah  | Howard | 165 | SEN | Female | 50km | |
| George  | Howarth | 36 | 60 | Male | 70km | Stubbington Green |
| Sandra  | Humphrey | 166 | 60 | Female | 50km | Sheet Striders |
| Chris  | Hunter | 167 | 50 | Male | 50km | |
| Chris  | James | 168 | SEN | Male | 50km | Victory AC |
| Steve  | James | 169 | 50 | Male | 50km | |
| Aaron  | Jewell | 76 | SEN | Male | 70km | |
| Paula  | Jones | 37 | 40 | Female | 70km | Calne Running Club |
| Deena  | Jones | 170 | 40 | Female | 50km | |
| Richard  | Jones | 171 | 40 | Male | 50km | Tadley Runners |
| Daniel  | Joyce | 172 | SEN | Male | 50km | CDM Mafia |
| Fiona  | Kaiser | 173 | SEN | Female | 50km | Hedge End Running Club |
| Dean  | Kellaway | 174 | 40 | Male | 50km | Haslemere Border AC |
| Patrick  | Kingston | 175 | 40 | Male | 50km | Ealing Eagles |
| Kristina  | Kucar | 176 | 40 | Female | 50km | London Frontrunners |
| Brent  | Latham | 177 | 40 | Male | 50km | Denmead Striders |
| Matt  | Law | 38 | 40 | Male | 70km | Fareham Running Club |
| Glenn  | Lawrence | 178 | 50 | Male | 50km | |
| Mark  | Legg | 179 | SEN | Male | 50km | |
| Craig  | Lewis | 39 | SEN | Male | 70km | Fareham Running Club |
| David  | Lewis | 180 | 60 | Male | 50km | 100 Marathon Club |
| Alan  | Li | 181 | 40 | Male | 50km | Maverick Run Project |
| Stewart  | Liesnham | 40 | 50 | Male | 70km | |
| Georgia  | Lines | 182 | SEN | Female | 50km | Fulham Running Club |
| Jack  | Loveys Jervoise | 183 | SEN | Male | 50km | |
| Jemma  | Lyons | 41 | SEN | Female | 70km | |
| Rosie  | Mackay | 184 | 50 | Female | 50km | Bad Boy Running Club |
| Christopher  | Maclean | 42 | SEN | Male | 70km | |
| Alie  | Madders | 185 | 40 | Female | 50km | Bad Boy Running Club |
| Wojtek  | Majka | 186 | SEN | Female | 50km | Maverick Run Project |
| M  | Maleki | 43 | 40 | Male | 70km | |
| Mark  | Manley | 44 | 50 | Male | 70km | Running Somewhere Else |
| Colin  | Mayne | 187 | 50 | Male | 50km | Portsmouth Joggers |
| Patrick  | Mcfadden | 45 | SEN | Male | 70km | Denmead Striders |
| Andy  | Mcmillan | 188 | 40 | Male | 50km | Virgin Runners |
| Sara  | Mcritchie | 189 | 40 | Female | 50km | Stubbington Green Runners |
| Stuart  | Middler | 46 | 50 | Male | 70km | Slinn Allstars |
| Paul  | Miller | 190 | 50 | Male | 50km | Hedge End Running Club |
| Jeff  | Mitchell | 191 | 50 | Male | 50km | Hatch Warren Runners |
| Justin  | Montague | 47 | 40 | Male | 70km | |
| Melissa  | Montague | 48 | 40 | Female | 70km | |
| Fraser  | Munro | 49 | 50 | Male | 70km | |
| Craig  | Munro | 192 | 50 | Male | 50km | |
| Oliver | Narbett | 193 | SEN | Male | 50km | None |
| Kevin  | Nicholson | 194 | 50 | Male | 50km | Basingstoke And Mid Hants |
| Zoe  | Norman | 195 | SEN | Female | 50km | |
| Jack  | Oates | 196 | SEN | Male | 50km | |
| Aigbs  | Ohiwerei | 197 | 40 | Male | 50km | |
| Craig  | Osgerby | 50 | 40 | Male | 70km | Eastleigh Running Club |
| Kevin  | Osman | 198 | SEN | Male | 50km | Liss Runners |
| Martyn  | Palmer | 199 | SEN | Male | 50km | |
| Annabel  | Parker | 200 | 40 | Female | 50km | |
| Jo  | Payze | 201 | 40 | Female | 50km | |
| Becky  | Pearson | 202 | SEN | Female | 50km | Arunners RC |
| Martin  | Pegler | 51 | 40 | Male | 70km | Fareham Running Club |
| Paul  | Perratt | 203 | 40 | Male | 50km | |
| Mauro  | Persic | 52 | 40 | Male | 70km | Victoria Park Harriers |
| Joseph  | Pettifor | 204 | SEN | Male | 50km | Alton Runners |
| Tracey  | Phillips | 205 | 50 | Female | 50km | New Forest Runners |
| Pawel  | Pietak | 53 | SEN | Male | 70km | |
| Mark  | Pike | 239 | 50 | Male | 50km | Yeovil Town RRC |
| Mike  | Pillans | 206 | 50 | Male | 50km | Liss Runners |
| Laura  | Pinks | 207 | SEN | Female | 50km | Hedge End |
| Trevor  | Poulter | 208 | 40 | Male | 50km | Hook Runners |
| Elizabeth  | Prinsep | 209 | 50 | Female | 50km | Romsey Road Runner |
| Andrew  | Pritchaard | 210 | SEN | Male | 50km | |
| Andrew  | Pumphrey | 211 | 50 | Male | 50km | Brighton Phoenix |
| Ian  | Puttock | 212 | 50 | Male | 50km | Arunners |
| Anthony  | Quinn | 213 | 50 | Male | 50km | Portsmouth Joggers |
| Christopher  | Revill | 54 | SEN | Male | 70km | |
| Lorna  | Richard | 214 | 40 | Female | 50km | Sheet Striders |
| Jonathan  | Richardson | 215 | 40 | Male | 50km | 100 Marathon Club |
| Neil  | Richmond | 216 | 50 | Male | 50km | |
| Dan  | Ripman | 55 | SEN | Male | 70km | |
| John  | Robertson | 217 | SEN | Male | 50km | Portsmouth Joggers |
| Charles  | Rodmell | 218 | 40 | Male | 50km | Chichester |
| John  | Sargeant | 56 | SEN | Male | 70km | |
| Nikki  | Savings | 57 | SEN | Female | 70km | Cprc |
| Stephen  | Scobie | 58 | 50 | Male | 70km | Petts Wood Runners |
| Catherine  | Seager | 59 | 40 | Female | 70km | Liss Runners |
| Phil  | Servas | 219 | 50 | Male | 50km | |
| Drew  | Shaw | 60 | SEN | Male | 70km | |
| David  | Sheppard | 61 | 40 | Male | 70km | |
| Samuel  | Shrubsole | 220 | SEN | Male | 50km | |
| Mike  | Sibley | 62 | 40 | Male | 70km | Eastleigh Running Club |
| Donna  | Slater | 63 | SEN | Female | 70km | |
| Nina  | Smith | 221 | SEN | Female | 50km | Datchet Dashers |
| Bruno  | Spellanzon | 64 | SEN | Male | 70km | |
| Howard  | Stinton | 222 | 40 | Male | 50km | |
| Bart  | Stodolski | 243 | SEN | Male | 50km | |
| Peter  | Summers | 65 | 50 | Male | 70km | Handy Cross Runners |
| Laura  | Summers | 223 | SEN | Female | 50km | |
| Pete  | Sutton | 66 | 50 | Male | 70km | Run ACademy Worthing |
| Lee  | Sykes | 67 | 40 | Male | 70km | Hardley Runners |
| Adam  | Tarpey | 224 | SEN | Male | 50km | |
| Ben  | Taylor | 68 | 40 | Male | 70km | |
| Jonathan  | Taylor | 225 | 50 | Male | 50km | Sandhurst Joggers |
| Dave  | Telfer | 69 | 60 | Male | 70km | Calne Running Club |
| Alastair  | Thompson | 70 | 40 | Male | 70km | |
| Emma  | Thomson | 226 | 40 | Female | 50km | |
| Claire  | Tillyer | 227 | SEN | Female | 50km | |
| Richard  | Twomey | 71 | 40 | Male | 70km | Serpentine |
| Benjamin  | Tyas | 228 | SEN | Male | 50km | Liss Runners |
| Stuart  | Vince | 229 | 40 | Male | 50km | Netley Abbey Runners |
| Jonathan  | Vintner | 230 | SEN | Male | 50km | Blackheath & Bromley |
| Dan  | Warner | 72 | SEN | Male | 70km | |
| Marc  | Wastle | 73 | 40 | Male | 70km | White Horse Harriers |
| Alex  | Watrous | 231 | SEN | Male | 50km | |
| Craig  | Weatherburn | 74 | 40 | Male | 70km | City Of Salisbury Arc |
| Greg  | Wells | 232 | 40 | Male | 50km | |
| Mark  | Westbrook | 233 | SEN | Male | 50km | Stubbington Green |
| Mike  | White | 234 | 40 | Male | 50km | City Of Salisbury A&Rc |
| Dave  | Whitehead | 235 | 50 | Male | 50km | |
| Jennifer  | Wood | 75 | 40 | Female | 70km | Paddock Wood AC |
| Helen  | Woods | 236 | 50 | Female | 50km | Midhurst Milers |
| Chris  | Yeomans | 237 | 40 | Male | 50km | Horsham Joggers |
---
Race instructions for Winter Cross 
Start: any time from 07:30 until 8:00 

In brief:
·         Sensible Covid precautions in place. Details below. 
·         Cold and dark: Bring warm clothing, phone and a torch. 
·         Weather forecast, 9° with moderate breeze and possibly light rain. 
·         Car parking is provided.
·         Field parking is just 1 minute from the Meon Hall,
·         tarmac/gravel parking is 8 minutes' walk to the hall. 
·         6:45AM number collection open 
·         Baggage and drop bags may be left at owners' risk in hall 
·         Start any time from 7:30 until 8:00 
·         13:00 cutoff for starting last leg of 50k, 13:30 cutoff for starting last leg of 70k,  
·         Dark (4PM onwards) cutoff for the finish. 
·         Course wet but in good condition – some puddles, few muddy patches, but mostly good. 
·         Aid stations (every 10k) with bottled water for you to refill your containers.  Also there will be coke, individually bagged fruit, sweets and savouries.  Each will have a first-aid medical kit. 
We are now into final preparations for the day.  We'll not take any deferments, changes etc. now that names have been sent to the chip timing people and assigned numbers. 
Covid precautions and advice 
As of 22nd December (and of course things may well change in these unpredictable times): 
Do not attend if suffering Covid symptoms or required to isolate. 
Wear a mask at all times when within the Meon Hall. 
Do your best to maintain distance in the Meon Hall and consider waiting outside. 
Be as self-sufficient as you can with your hydration, nutrition, safety pins etc.  This will help you reduce the risk of infection through touching things.  The aid stations will be largely self-service and will have individual items of water (500ml bottles), individually wrapped fruits, sweets and savouries.  Please pick up what you need and move on promptly.
Number pickup and registration
From 6.45 you may collect your number with the timing chip on the back.  Preferably, bring your own safety pins to keep contact to a minimum. Also, do not turn up at the hall really early and then have to hang around indoors for ages.
Wanting to change distance?
If you are booked on the 70km but want to change down to the 50k, please do so by telling us at registration or by retiring at 50k (and telling the finish people - so that you are not classed as a 70k DNF when we find that you never passed the 60k checkpoint).
 On-the-day entry
There will be limited entry on the day (+£5), so if you have found someone who suddenly feels the urge to come and join in, bring them along, there will be a place for them.
Race-day gear
Compulsory kit: none, but if you think that you may be out on course after 3PM, then you are strongly advised to have wear reflective clothing or have a rear flashing red light plus a torch.
Ultimately, it's winter, and as big boys and girls you should know to be sensible with your kit choice.  In previous years we have had all or some of the following: cold temperatures, mild temperatures, rain, dry, wind, calm, sleet/snow, sun, poor visibility.  In other words bring clothing and kit suitable for all conditions with you. You are welcome to leave a bag in the hall, and to pick up or drop off stuff as you pass by at 10k, 30k and 50k.  There is no excuse for coming unprepared.
Shoes:  This is a multi-terrain race, and is mostly on 'hard surface' – i.e. hard trail, concrete or tarmac, but has some sections of more slippery stuff.  There is no right shoe!
Leg 1 (North) road shoes are fine, but you will get wet feet at 500m after the start (and then again about 9k).  There is often a huge puddle in the way, and unless you want to baby around the outside of it or can persuade someone to give you a piggy-back, you will get wet feet.
Leg 2 (East) is the most slippery one.  Trail shoes for this.  Some muddy sections and a descent on chalk.  Take care, especially downhill; beware, some mud shoes are awful of wet chalk.
Leg 3 (West) has quite a bit of road and reasonably hard trail plus a couple of short sections that can be muddy.  Light trail shoes should suffice, just take it easy on anything slippery.

Leg 4 (South) is good hard trail.  Choose whatever is comfortable, grip is good.
You may consider a shoe change at 10k, 30k or 50k, but if you are sticking with one shoe for the whole day, then your most comfortable trusted trail shoe is best.
Other gear:
Bring all your clothing options to the hall, and then make a sensible judgement on what you need. Include the following; you are going to be out there for some time:
·

        

Water containers.  You are encouraged to carry some drink containers (bottles, bladder etc.) to refill at the water stations (every 10k).

·

        

Folding re-usable cup.  In any race, as an ultra runner, you should have at least one of these (I always use two). We'll have these on sale at Race HQ for £3.

 

·

        

Outer layer to have reflective strips or backpack with reflective lettering or strips. 

·

        

Torch (anyone setting out on their last leg after 12:30, please take a torch – to make yourself more visible). 

·

        

Warm top layer.

·

        

Waterproof breathable top.

·

        

Gloves.

·

        

Warm headgear.

·

        

Mobile phone with google map of the course, and race HQ number 07704 502800 pre-loaded.  Put the phone in a polythene bag (e.g. zip-lock food bag) if not waterproof.

·

        

If you plan to be walking Long trousers (or lightweight over-trousers).
Parking

Please refer to "Car Park Map" below.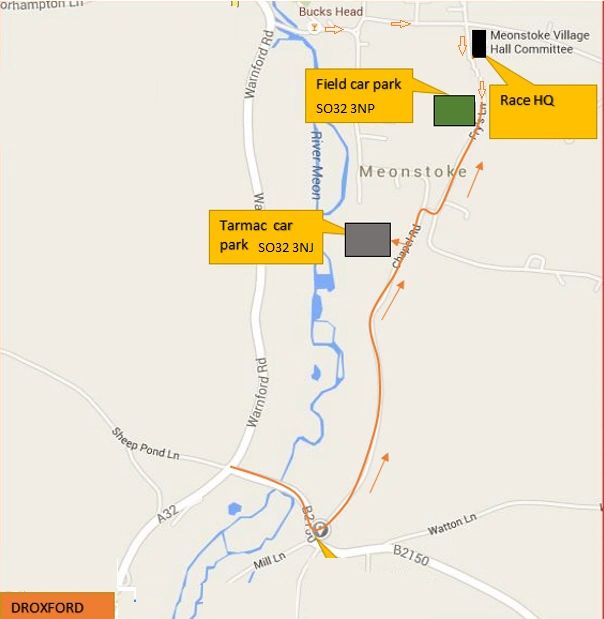 Field parking: Google Map link for Field Parking
This is very close to the Meon Hall and is suitable for four wheel drive and confident front wheel drivers who don't mind getting muddy tyres. Please drive carefully in the field.  This is private property kindly loaned to us for the day.
Tarmac parking: Google Map link for Tarmac-Gravel Parking
This is a hard gravel carpark with a tarmac entrance, suitable for all vehicles.  Please park as tightly as possible to maximize the space we have. Please note that it is a good 7-minute walk to the race HQ from here. We will open the gates about 6:30AM.
At the Meon Hall and surrounding lanes – no parking please.  There is very limited parking at the hall, and marshals and emergency vehicles will need to be calling in and leaving from there, so please do not plan to park here.  Tractors and other large vehicles use these small lanes, and we have been specifically told to make sure the roads are kept clear. 
Registration and number collection will be open from 6:45AM. You do not need to bring anything with you to register, just know your name, and preferably your number – see the Start List
Baggage may be left in the non-secure baggage area. You may also leave a bag at the back of the main hall to access during the day as you pass through the checkpoint at 10k, 30k and 50k.  Clearly label your bags.
The start
In order to aid social distancing and because some people prefer to start in their own time in a relaxed way, the chip-timed start line will be open from 7:30 until 8:00 (at least).  Your race time will be chip-timed from your start time to your finish time. 
Do please note though that winners' prizes will be given according to gun-time.  In other words, if you think you're on for a prize, start at 07:30 (or soon thereafter).
If you think you might be tight for the 4PM cutoff, start right behind the racers at 7:30.  Otherwise start any time you want to during that that 30 minute (at least) open start.
At just before 7:30 we will walk to the start outside the hall, and you can see the start of the North, East, West and South legs.
The hall as the central checkpoint will be open all day with water, coke, sweets, savouries plus some bagged fruit to keep you going.  And yes, the crème eggs.
Cutoffs
50k: This is a daytime race that has the last leg with some road sections, so you start leg3 by 1PM and must be back by nightfall (around 4:00PM).  If you are still out on course as it gets dark, we will collect you in a car.  That is the best part of 8½ hours to do 31 miles.  Most people should be able to walk/jog that and the cutoff will be enforced.
70k: This has the last leg of 20k nearly all off-road on the old railway line.  Therefore a cutoff of 1:30PM will be applied to being able to start this leg and 4PM to finish.  If you are timed out from the last leg of the 70k, you will be counted as a 50k finisher.
Note: Anyone changing distance is not eligible for a prize (1st 2nd, 3rd or age group).
Course
We have run most of the course in the last few weeks and it is in good shape.  There is a puddle in the first kilometre, and some muddy sections in leg 2. The course is designed to be still runnable in winter, not a mudfest. There are very few gates, and only one stile on the whole course, so not much to slow you down.
The description of each leg can be seen on http://secondwindrunning.co.uk/p/winter-cross-ultra .
There are some significant hill climbs of around 100 metres that you will encounter at around miles 7, 11, 15, 20.  Other than for those, the rest is pretty reasonable as can be deduced from the profile below (although profiles always look scary to me).  Unless you are seriously strong, I would recommend that you walk up those hills.  You will not lose much time on the climb and will more than make it up once you're on the flat or heading downhill again.
In the early miles, do remember to save yourself for the big long climb just after 30km – the hill that keeps on giving.  Once you're past that, the hard work is done.
Navigation: Easy. There will be signs that direct you onto the main trails that you will follow for the three or four legs.  Once on a trail (e.g. South Downs Way) you will then follow that until you reach the turn point/aid station. There will be some additional signage where we assess there is a chance that you may not see a trail public waymark sign.  Provided you look around you (and not just at the ground immediately in front) it will be obvious.
Maps: If you like following paper maps, then the one to have is the Ordnance Survey Meon Valley (Map 119 or OL3).  If you are just wanting to use it if you get lost, it probably won't be much help, because a paper map doesn't tell you where you are.  Google maps, however, does.  On most phones, you can see a copy of the course map here on Google maps: Winter Cross Ultra Map
Have this opened on your phone before you start. That way, if you do stray off-course somehow, get out the phone, fire up Google maps and you'll know exactly where to go.
There is a set of written route guidance instructions that you may print off and follow on this link: WX_Instructions (The timings shown in this document are based on 11 minute miles)
At the Finish:

Note: If you are not finishing at the planned distance (e.g. wimping out at 50k), please make this clear at the finish.

You will receive your medal and finisher's T-shirt.  We also have some spot prizes from Alton Sports.
In the current circumstances, having finished, if you are feeling fine to head home, then that would be best.  However, if you are in need of recovery indoors, or need to use the showers or changing rooms, then please do.
Please remove your shoes before re-entering the hall. This will help us keep it as clean as possible inside.
Safety:
As much as running races are fun, nothing comes ahead of safety.  A dangerous race is no fun at all.  Our marshals and medics are there for you, but please take proper care of yourself and others whilst you are out on course.  If you need help, phone us or get to a marshal or medic.  If you see someone else who might be having problems, don't ignore it, help them.
If you do have to retire, please do so at a marshal point if at all possible.  You must let us know you have pulled out.  If you do not, we will come looking for you.
Charities:
The event supports Hampshire Search and Rescue (HANTSAR) and some of the marshals you'll see are HANTSAR people.  Please join us in thanking all the marshals – people who volunteer to stand around on a cold day keeping runners safe and hopefully motivated too!

The event also donates to the Meonstoke School and Farmers' support charity.
I know many of you are raising money for your chosen charities too.  Well done to you.
Spectators:
This is an ideal course for spectators to be able to see the runners in many places, often from the comfort of one of the local pubs.  Please note that parking will be very limited at the hall, so spectators are requested to refrain from attempting to park there during the event.
Suggested spectator points:
5km   – West Meon – Meon Valley Trail car park near GU32 1JH
13km – Old Winchester Hill – car park (up the hill from GU32 1JH)
20km – Near Sustainability Centre (GU32 1HR)
26km – Old Winchester Hill – car park (again)
31km – Meonstoke, "Bucks Head" pub SO32 3NA
35km – Beacon Hill car park (up the hill from SO32 3LU)
38km – Milbury's Pub (SO24 0PB)
43km – Milbury's Pub (SO24 0PB)
47km – Beacon Hill car park (again)
50km – Meonstoke, "Bucks Head" pub SO32 3NA
58km – Railway bridge, Kingsmead, near "The Roebuck Inn" pub PO17 5AY
61km – Wickham, Meon Valley Trail Car Park PO17 5HY
64km – Railway bridge, Kingsmead, near "The Roebuck Inn" pub PO17 5AY
Links:
Google map: Winter Cross Map 

Route guidance instructions: WX_Instructions
Winter Cross website: WX_Website